Who is Elmo?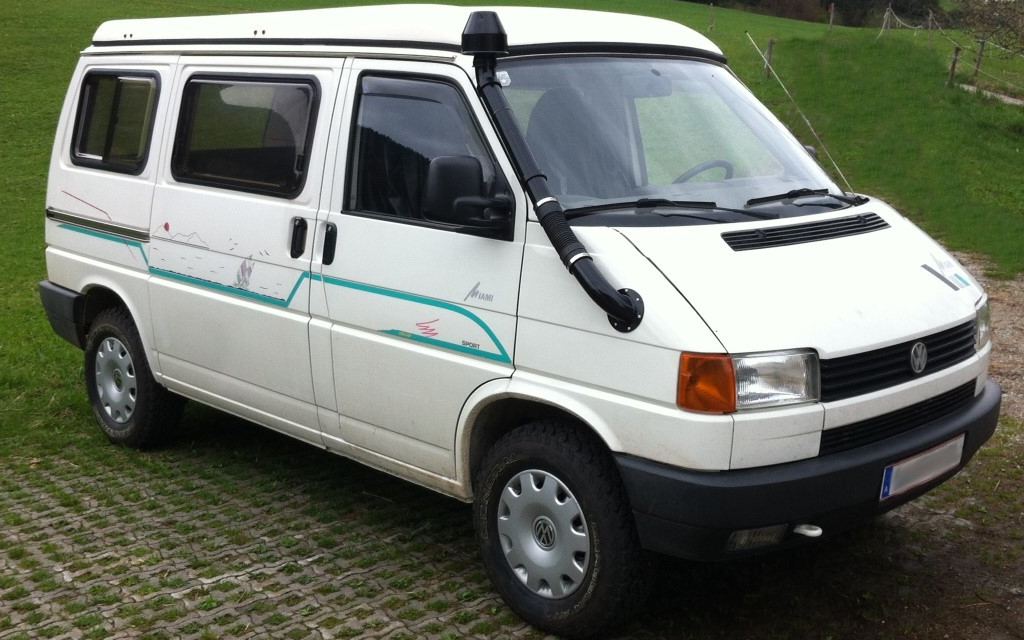 Elmo
Base vehicle
Since our first camping trip to the beach of Beauduc in the south of France in summer 2008 one thing has been clear: we love nature and freedom, but we are not tent campers. During our stay we were already fancying the camping vehicles of our neighbors. Back at home we started searching for a suitable vehicle. It should be cheap but fully equipped because we wanted to find out if we like camping at all. After a long search we found our test vehicle: a VW T4 with genuine Reimo Miami interior. We named it Elmo, after one of the sailors' patrons. Within a short time Elmo became an essential part of our life both during exciting holidays and in the form of unpleasant repairs and maintenance work. The only thing, which has bothered us about Elmo from the beginning, was its lack of engine power. Therefore, in 2010 we decided to replace the genuine suction diesel engine (ENG: 1X, 60 HP) with a TDI engine (ENG: AFN, 110 HP).
Vehicle reconditioning and off-road conversion
When we decided to take a break after completing our doctoral studies in 2013, we were faced with a big question: Which vehicle is most suitable for such an undertaking? Many factors had to be considered: The vehicle should be handy and unobtrusive, but also robust and suitable for off-road use. The technical condition should be known exactly, especially with respect to engine, transmission and chassis. It should also be possible to carry out repairs on the road on our own. It should be easy to ship and should not cause any problems regarding quarantine when entering sensitive countries. After a long time of tossing and turning we decided to prepare Elmo for this adventure. But we also knew from the beginning that this would involve compromises because the space available in the VW T4 is very limited.
In the first stage of the conversion, Elmo should be completely reconditioned and equipped with appropriate off-road technology. To accomplish this, a rusty VW T4 Syncro was purchased as a spare parts dispenser for the four-wheel drive. Subsequently, Sigi carried out the following tasks over a period of three years:
Elmo's underbody was completely cleaned, sandblasted and given a three-layer paint finish. All add-on and chassis parts were sandblasted and repainted too.
The engine and the add-on parts were completely reconditioned. In addition, a water heater was installed in order to allow engine preheating in cold climates.
Starting from the transmission the four-wheel drive train was completely reconditioned. In addition, the transmission ratio of the 4th and 5th gear was adapted to the engine performance.
The entire chassis was reconditioned.
For a better off-road capability, Elmo was lifted and equipped with larger AT tires. Additionally, protective plates for the engine and the tank were attached. In order to increase the wading depth, Elmo was equipped with a snorkel and the gearbox and differential ventilation was raised.
Unfortunately, this work also revealed that Elmo's bodywork was, in terms of rust, in a worse condition than expected. This required time-consuming welding repairs over and over again. After finishing these tasks Sigi can say one thing: "I have learned a lot and I almost unscrewed every screw of Elmo."
Interior fitting
Now that the base vehicle for our undertaking was available, we started planning the interior. The genuine Reimo interior has fulfilled its purpose, but it was sub-optimal in terms of comfort, storage space and the used technology. Therefore, we decided to renew the entire interior and asked ourselves the following question: How can we make "living" within Elmo as simple and comfortable as possible? Again, several aspects were important to us: the existing storage space should be used efficiently and it should be easy to access. When converting between sleep and living mode, only a few steps should be necessary. It should be possible to camp completely self-sufficiently and to guarantee a water supply for up to ten days. Even over a long period of time winter camping at higher altitudes should be possible without problems. Furthermore, we wanted to be independent of any gas supply. After countless hours of research and planning we teamed up to realize Elmo's new interior.
Elmo's insulation was replaced, the interior walls were covered with synthetic leather and modified blinds for privacy and insect protection were integrated. Additionally, the pop-up roof was covered with new needle felt.
The genuine Reimo folding bench was equipped with special hinges for elevation to provide more storage space in the rear. New mattresses were fitted using several different layers of foam. Some of the covers had to be repaired.
The new kitchenette was made of CPL-coated poplar plywood and aluminum design elements. It integrates all necessary elements such as diesel air heater, compressor refrigerator box, sink, diesel cooker and Porta Potti. The self-welded and insulated PE water tank is also installed in the kitchenette.
An electrical system, which meets our requirements, was installed. It includes two batteries, a photovoltaic system, various chargers, an inverter and dimmable LED lighting.
We often had problems in realizing our ideas because the necessary elements were not available. Research on the Internet and visiting specialized dealers were usually unsuccessful. Therefore, many of these elements had to be custom-built in a very time-consuming manner by ourselves. After the completion of the interior fitting we can now fortunately joke about it again: "Our entire Elmo is custom handcrafted."
Written by Sigi